Suppose you are a manager or a human resources executive looking to hire remote workers for your company.
In that case, you need to ensure that you have a successful remote employee onboarding process.
A good onboarding process focuses on the needs of the new employee while also taking the time to establish a solid relationship with the latest person to get the most out of the experience.
Successful Remote Employee Onboarding Process
Creating a successful remote employee onboarding process is essential in today's work environment, where remote work is becoming increasingly popular.
To create an effective onboarding process, it is essential to provide a clear and concise introduction to the company culture, values, and expectations.
This can include virtual office tours, video introductions from team members, and a detailed explanation of the company's mission and vision.
Read: Employee Appreciation Ideas To Motivate Your Team
It is also essential to provide new employees with the necessary tools and resources to be successful in their role, such as access to company software and communication platforms.
Setting clear goals and milestones for the onboarding process can help ensure that new employees are on track and receiving the necessary support.
Regular check-ins and feedback sessions can help new employees feel more connected and valued.
Read: Top 20 Self-Employed Business Ideas to start
Make instant messaging and video conferencing more personal and meaningful for new remote workers.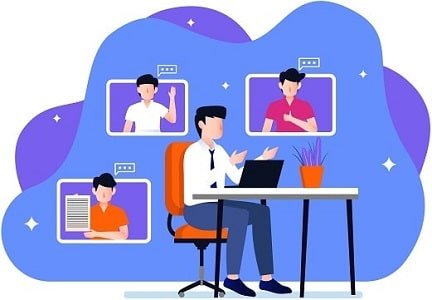 When you hire employees who work from home, it's crucial to ensure that communication is easy to manage.
There are many ways to do this. You can use video conferencing or an instant messaging app.
Instant messaging and video conferencing aren't substitutes for in-person communication, but they can make it easier.
Read: Why You Need IoT Development Services For a Smart Office
These two tools can improve teamwork, boost employee morale and help to keep employees accountable.
Using instant messaging to communicate can make scheduling meetings, sharing documents, and checking in with teammates easier. Video conferencing is also an excellent tool for team-building activities.
While the two tools are excellent at keeping people connected, they can have downsides. They aren't always personal as in-person conversations. Second, they can miss body language. It's crucial for understanding the message and gauging responses.
One solution for this is to set up a shared chat space. Doing this allows you to set specific data security levels and control who can see it.
Read: Corporate Gifts Ideas to Boost Confidence at the Workplace
Form a global team
One of the most challenging aspects of a remote employee onboarding process is creating an onboarding culture that will motivate and engage your remote employees.
While some may feel comfortable working in a virtual environment, others may need help with this type of work. To ensure a successful onboarding experience, you should create a checklist that helps you address common remote worker onboarding challenges.
Creating a cohesive onboarding process is more important than ever before. Companies with effective onboarding programs report 2.5 times the revenue growth of their competition. New hires are more productive and less likely to leave the company.
Read: A Brief History of Workers Compensation Lawyer
Remote workers require different tools, resources, and technologies than office-based employees. They need to feel comfortable and have access to the company's systems and information.
You can help them get started by providing them with a list of applications, benefits portals, and the company's policies and procedures.
Treat the employee onboarding process like any other project to be carried out over a more extended period.
In today's job market, there is a strong push to keep employees and reduce turnover. To help support new hires, companies should be able to onboard them effectively. It can increase productivity, lower stress, and increase employee satisfaction.
The onboarding process can include paperwork and a checklist of tasks that must be completed. These activities are designed to show that the new employee is welcome and is prepared to make the most of their time with the company.
Read: Why Should One Employ a Corporate Lawyer on Staff?
Onboarding can be an enjoyable experience, but not all onboarding processes are created equal. Identifying common mistakes can prevent them.
When it comes to the onboarding process, one of the most important steps is to provide new hires with the tools they need to perform their jobs. Whether this means providing them with a mentor or buddy, it can improve their experience and reduce frustration.
Engage closely with new colleagues and communicate openly throughout each step
Onboarding new employees is a critical part of building business capability.
The process involves providing new hires with tools, training, and support to help them become productive and integrated team members. It also allows you to assess the performance of your new hires.
When onboarding new remote workers, it is crucial to engage with them. It can be done by asking open questions about their onboarding experience. Ideally, the new hire is also given a personalized welcome.
Read: Payroll Management Software Advantages for small business
New hires need to be informed about upward mobility within the organization and how to access software, equipment, and company systems.
Another critical feature of effective onboarding is a structured, well-planned process that guides them through company processes, technology, and values.
A well-structured onboarding program will ensure that all the information is presented consistently and logically.
For some, learning new technology can be a daunting prospect. As a result, it is essential to create an environment that is conducive to learning. Remote workers can benefit from a tailored, low-pressure approach.